Introduction to the Dynamic Condylar Screw-DCS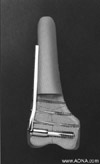 Click for enlarged view of image


The Dynamic Condylar Screw is designed to provide strong and stable internal fixation of certain distal femoral and subtrochanteric fractures, with minimal soft tissue irritation.

Strong

The DCS Plates are made of 316L stainless steel and are cold-worked for strength.
Stable

The two holes closest to the barrel accept 6.5 mm Cancellous Bone Screws. This enhances stability by allowing:
· fixation of the most distal condylar fracture fragments
with two or more screws, or
· fixation of the most proximal subtrochanteric fracture fragment
with two or more screws.

DCP holes in the DCS side plate allow angulation of 4.5 mm Cortex Screws and axial compression across a shaft fracture.


The number of screw holes per plate length is maxi- mized, without compromising plate strength. This allows an increased number of fixation points with a smaller incision.
Two flats within the DCS Plate barrel correspond to the two-flat design of the lag screw, preventing rota- tion of the DHS/DCS Lag Screw within the barrel. The two-flat design also eases insertion of the plate over the DHS/DCS Lag Screw.
Minimal Soft Tissue Irritation
Low-profile design reduces risk of iliotibial band irritation (distal femoral fractures) and trochanteric bursitis (subtrochanteric fractures).
The DCS Plates are available with 6 to 16 holes, for varied clinical situations. The DHS/DCS Lag Screw is available in 50 mm to 145 mm lengths. The DHS/DCS Compressing Screw can be used for additional compression; only one size compressing screw is needed.

The DCS instruments also provide direct measurements throughout the DCS procedure, allowing proper reaming, tapping, and lag screw insertion depth. The built-in stop and locking nut on the DCS Triple Reamer prevent over-reaming.
---
Next Page
DHS / DCS Index