AONA Case Documentaries
Click on a bone in the skeleton illustration below
to go to the appropriate section of cases,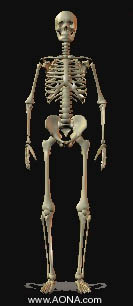 or choose from the following sections of the library:

AO On-Line Library
Internet and Multimedia Services by GWCC. All rights reserved, &copy 1999.
---
The material presented by AO North America on this website is directed to orthopaedic surgeons, neurosurgeons, plastic and craniomaxillofacial surgeons, and veterinary surgeons in North America, and is intended for educational and communication purposes only. Any clinical matters which may be discussed either in videos or individual case presentations, represent the opinions or approach of the individual physicians presenting the material. AONA exerts no editorial control over the contents.
AONA represents that there are a variety of approaches to treating a particular medical condition. The material discussed is not intended to represent the only or necessarily the best method or procedure, but conveys the opinion of the individual author. AONA assumes no responsibility for the individual decision to use any device or technique to treat a specific medical problem. The decision to use a particular technique rests solely between the patient and the treating surgeon. It is recommended that, prior to using a demonstrated technique, a surgeon participate in an AONA sponsored educational course.
Some medical devices demonstrated in the material have FDA clearance for specific indications; some are available only in restricted settings. It is the responsibility of the treating surgeon to determine the FDA status of the device to be used, and to use the product(s) with the appropriate patient consent and in compliance with applicable law.
Any statements about commercial products are solely the opinion of the presenting surgeon(s) and do not represent AONA endorsement or evaluation of the product(s) used.
AONA disclaims any and all responsibility for injury or other damages which may be claimed to arise from the techniques and/or treatments set forth in the above-mentioned presentations, whether such claims are asserted by a physician or other individual. AONA specifically disclaims any responsibility for the content or discussion of material in such presentations.